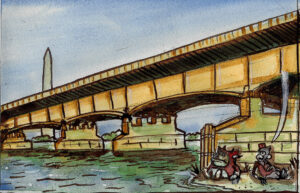 Welcome back to GONOGO. On Thursdays between comic postings I am going to feature some commentary about the previous week's comic.
First, let me introduce myself, I am Jared Davis. I'm an artist, painter, set designer and occasional "Elvis" living in Washington DC. Last year, during the darkest days of Quarantine, I decided that the world needed another webcomic. So, I dusted off some of my old drawings that were rattling around in some pocket sketchbooks, and began to "get serious" about this comic thing. I  created some comics back when I was in high school. Of note was Sign of the Times, which was a comic critiquing the draconian sign ordinances in Novi, Michigan that was published in the Novi rotary newsletter….I know, once a cartoonist has reached such great heights, its only downhill from there.
In the intervening decades I did a lot of painting, and a bit of comedy writing (mostly for Elvis' Birthday Fight Club) and it took a global pandemic to get me to realize that I could "put the chocolate in the peanut butter", so to speak. The nature of comics has changed in the past few decades. When I was creating Sign of the Times, there were gatekeepers and barriers to entry (like the editor of the Novi Rotary Club newsletter) but those barriers no longer exist in the brave new world of webcomics. Aside from barrier smashing, the actual way comics are made has changed. In the early Nineties, I was drawing with India ink on Bristol board and then sending it out to be photographed. Today, I modestly submit, that I am a Photoshop wizard. The kind of comic I wish to present has been greatly colored by the changes in the technological landscape. To be honest, I have been struggling with these changes, and I hope that you, dear reader, will come on the journey with me. These first few episodes are going to be a bit wobbly (Have you ever gone back and read any of the early Garfield? Those drawings of Garfield represent the Neanderthal state in the evolution of the Garfield strip)  so I hope you will indulge me as GONOGO finds its comedic footing over the next season or two.
Now that we have introductions out of the way, I am looking forward to the next blog post (after Episode 2, on April 22) where we can discuss the development of your newest favorite Troll and Monkey duo: Foggy Bottom and Smithson.