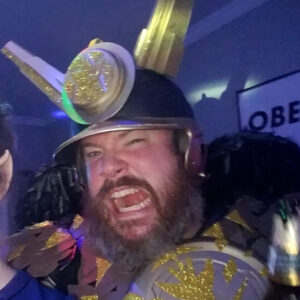 Jared Davis is creator of GONOGO (pictured as Zoltan during the legendary Halloween party he hosts annually). He is an artist, painter, set designer, and sometimes "Elvis".  Jared lives in Washington DC with his wife Kate, son Max, and dog Ginger.
You can check out Jared's other artistic endeavors at www.ArtByJared.com.
He is also Artistic Director of www.AstroPopEvents.com which creates America the Game Show, F*ck Yeah! And Elvis' Birthday Fight Club.
Need to get in touch? Email him at [email protected].