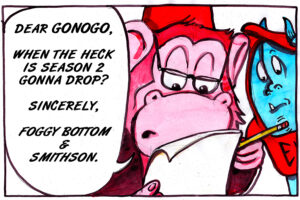 Today marks the one year anniversary of the end of Season 1 of GONOGO and we want to make an announcement. We have sharpened our pencils, raided the piggy bank and knocked the cat off the keyboard so that we can announce that GONOGO was greenlit for a second season! There will be a few changes to the format this time around. GONOGO will be posting/broadcasting/publishing (whatever you call it for a webcomic) monthly. So, mark your calendars for April 4, 2024 for the first Episode of Season Two. After that expect a new comic on the first Thursday of every month! I'll be throwing out a blog post somewhere in the middle of each month discussing the previous episode and dispensing insider information for the whole season.
If you are still reading this you are a either a GONOGO superfan or you create comics yourself. I just wanted to address the change in format for you folks. Making a comic is hard work, especially when you think its funny to be contrarian and do full color watercolors for every panel. It is also hard to get noticed on platforms like Tapas or Webtoon because of a million factors. In short, the pace of 26 episodes a year was simply too much for virtually no reward (except for the love of you loyal fans, which is priceless!) I do still have the Season 1 book for sale, but really at this point, encouragement and likes are all that I need….who am I kidding?! SEND MONEY!
Again, thank you for reading this little webcomic about a monkey and a troll living under the Roosevelt Bridge, I couldn't have done it without you!
Jared